It might seem a little early to start talking about Christmas but, with less than 12 weeks to go and memories of last year's post struggles still pretty fresh, it does feel like the right time to mention seasonal crafting.  To be honest, compared to some I think I'm actually falling behind! 
Awareness of planet-conscious wrapping is something that has grown lots over the past few years, and making your own wrapping paper and packaging can really help the impact. Firstly, chances are you'll only make what you need, or have much less excess than you might if you buy lots of [plastic covered] rolls from the shops.  Being able to source your own supplies again means excess is minimised and you can be more conscientious about packaging and where it comes from too. 
But the most wonderful thing about handmade packaging is it's unique characteristics which give it charm and ensure the recipient feels extra special about the effort which you've gone too.  Oh, and did I mention it's really easy too? 
Now the obvious place to start is wrapping paper, and there's a blog post all about making your own which you can read here - just add in a few festive stamps like these and you're sorted!
But once you've got the paper sorted there's other little bits you can add that can really elevate your wrapping to the next level. 
Gift tags are obviously useful and practical but they are also the perfect canvas for some handmade decoration too.  Packs of blank tags are easy to come by and stamping makes it quick and easy to make a few different variations - you could go with a Merry Christmas Postmark style stamp, have a personalised message turned in to stamp form to save signing them all, you could use letters to write the recipient's name or initials. Or even have a personalised family portrait stamp made?!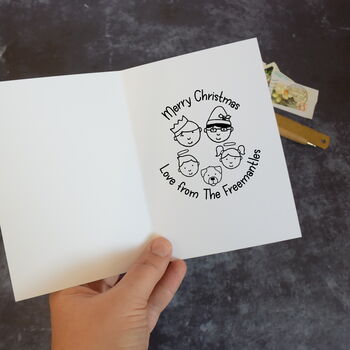 Once you've got your paper prepped and your gift tags ready the next design decision is how to stick them down.  Paper or washi tape is a great way to ensure your packaging is easily recyclable.  But if you're looking to make a little more impact than a self-adhesive wax seal can do the job brilliantly.  Stuck on a ribbon bow, over the top of the ribbon/string on your gift tag, or even as a little decoration in their own right, the elegance they add to a parcel is second to none. 
Finally don't forget these techniques can be used across different items too.  Cards is one obvious alternative for your range of stamps, and you could mix up the ink colours used too to contrast/coordinate with wrapping you might do.  Or you could try making some festive bunting using your stamps? What about creating tree decorations with letter stamps to personalise them or even wax seals to hold your ribbons in place (and don't forget your gift tags could double up as decorations too!). 
The possibilities are endless - and not just for Christmas!